"Therapeutic Massage is a gentle therapy that can relieve pain, reduce stress and promote health."
Swedish Massage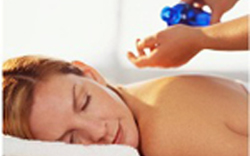 Swedish Massage is the basic "relaxation" style of bodywork, which uses long strokes, squeezing and kneading.  This type of massage is particularly useful for muscles which are already sore from stress or a tough workout, as it is often more gentle than other styles.
Learn More »
Deep Tissue, Sports and Trigger Point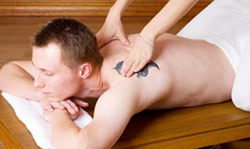 Deep Tissue/Sports Massage: this form of massage works on a deeper level of musculature or connective tissue. The therapist uses slow, hard strokes and deep, sustained finger pressure to work deeply into the contracted muscles, fascia and tendons. This technique increases flexibility, 
Learn More »
Reflexology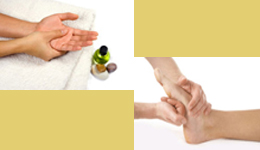 Reflexology works on the assumption that parts of the feet (as well as parts of the ears and hands) correspond to other parts of the body's anatomy.  Reflexologists apply pressure to the side, top or bottom of the feet to help reduce dysfunction in other parts of the body.
Learn More »